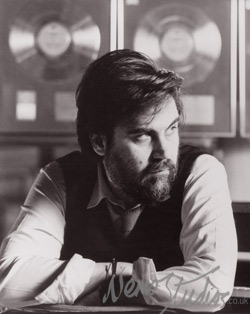 VANGELIS
The world renowned composer Vangelis has played an influential part in the development of different musical genres. He has also contributed to the widespread use of electronic music. In the early nineteen seventies he pioneered the use of electronic devices and musical instruments to express his musical ideas. Vangelis produced seminal albums that contained key elements which set him on a magical journey of his own. His pioneering works have gained him worldwide acknowledgement as the master of electronic music.
In order for Vangelis to bring his musical discoveries to life and pursue his creative ideas, he has always looked for the shortest distance between the moment of inspiration and the instant of execution. This was sought to retain the freshness of his music, and keep it unadulterated by the influence of rational thinking, or logical analysis. Vangelis' music was created on instruments that were always situated nearby, so he could compose spontaneously in an instantaneous fashion, without prior plans for a melody, or expectations of any outcome.
The general public usually know of Vangelis' music through one of his stunning film scores such as 'Chariots of Fire', 'Blade Runner', 'The Bounty', '1492: Conquest of Paradise', or 'Alexander'. However his involvement in film music has been very limited, as Vangelis has always considered himself first and foremost a servant to music. He composes every day to serve music, not to seek a career as a film composer.
Among his other contributions to musical outlets, he produced music for ballet, theatre, grand public events, and humanitarian causes. His music is universal, as he is able to create musical portraits of different countries, and landscapes. To Vangelis music transcends all borders and all languages.
Vangelis always held the belief that music can have an intrinsic and extraordinary power to elevate, heal and inspire the human race, or, if misused, can destroy it. With this strong conviction came a great sense of responsibility towards his music. As Vangelis' music received more global appeal and it attained a wider success, he felt an increased burden of responsibility because of this mass exposure.
Throughout his numerous musical endeavourers, Vangelis received many awards. The recognition came from institutions in the arts and sciences, and he was honoured by nations and governments from all corners of the globe. Perhaps Vangelis' biggest satisfaction comes when he learns that people turn to his music because they really want to, and not because it was the latest trend or commercially promoted. While he has remained an immensely private man and stayed away from mass public exposure, the appeal of his remarkable music attracts a global following, reaching millions of people with different musical tastes and backgrounds.
Whether scoring for a major motion picture or composing personal works, Evanghelos (Odyssey) Papathanassiou remains a true musical genius, the genius that is simply labelled as VANGELIS.