Studios was the recording studio of the renowned composer and innovative musician Vangelis. It was established in London, in 1975, as a privately owned sound laboratory and recording studio. At the time, it was one of the very few independently run studios dedicated to the sole recording projects of one artist. The studio - or as Vangelis preferred to call it, 'his laboratory' - fulfilled one of Vangelis' long-term ambitions; from a young age, Vangelis had developed his own musical style and made it his dream to found a creative haven to pursue his own exploration of sound.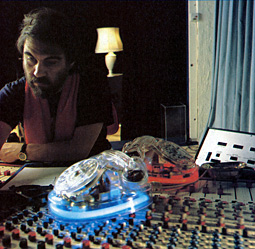 Vangelis equipped Nemo Studios with all the necessary professional commercial equipment needed for producing music on quarter-inch analogue tape, all funded by Vangelis' successful music records. The studio was filled with a wide collection of musical instruments of various kinds: acoustic, ethnic, electronic, and synthesisers.
Vangelis' enormous music emanating from his sound laboratory mesmerized the audiences with each new release stirring greater enthusiasm and impact than the previous one. His talents as an exceptionally gifted composer were only enhanced by his instinctive touch to bring a soul to the electronic music he pioneered, and his symphonic sensibilities that broke the taboo that electronic music were too cold and too mechanical to be embraced wholeheartedly.
In addition to his music releases as successful albums, his memorable film score to Chariots of Fire, Missing, Blade Runner, Antarctica and The Bounty, are all testaments for his visionary and his lasting impact on film music today.
Vangelis worked virtually alone at his well-equipped sound laboratory, and was only assisted by one or two studio engineers. Working in this way allowed Vangelis to create music in an uninterrupted and relaxed environment, which inspired him to create truly spontaneous compositions. If an idea sprung to mind, the studio was always ready for him, and Vangelis could start recording creative ideas right away. ◊