Vangelis - chapter 6
Following the Oscar ceremony, the 'Chariots of Fire' single slowly climbed the US popular music charts. Eventually, both the album and the single reached the number-one position.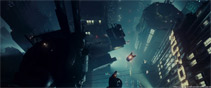 In 1982, he composed the music for Ridley Scott's science fiction film Blade Runner, which premiered in the late summer of the same year. The film was a loose adaptation of the novel Do Androids Dream of Electric Sheep, written by acclaimed American science fiction novelist Philip K Dick. Vangelis' musical score seamlessly complimented the powerful visuals and fascinating narrative. The soundtrack expanded the aural senses, drawing the viewer closer to Ridley Scott's vision. Though this movie did not fare well at the box office at first, it has now become a timeless classic. It has since been revered by film critics, and science fiction fans around the world.

The third song-based album by Jon and Vangelis, 'Private Collection', was released in May 1983. It was their most sublime and contemplative effort yet. The album was supported by the single 'And When the Night Comes', followed by 'He Is Sailing' a few months later. The latter was backed with the rare track 'Song Is'.
Also that year, Vangelis wrote the soundtrack for the Japanese film South Pole Story, directed by Koreyoshi Kurahara. The film opened in Japanese cinemas in July 1983. It was a true-life story of a scientific mission to Antarctica in 1958. Because of adverse weather conditions, the team unavoidably had to return home, leaving behind their pack of sled dogs to survive alone at the South Pole.

The theme tune from South Pole Story conveyed a story of anguish and determination, as they fought against extreme weather conditions across the freezing landscape. Vangelis' music complemented the clever camera directions, which focused around the dogs as they ran across the frozen terrain to find their masters. The movie received a tremendous reception at its premiere in Japan, and it was especially popular with children. Today, South Pole Story still remains one of the highest grossing movies in Japan's film history.
Vangelis was never content to write music just for films. In the early 1980s, he began composing music for ballet and stage. He created music for the ballet R B Sque performed in aid of Amnesty International. It was choreographed by Wayne Eagling for The Royal Ballet School, and performed at the Theatre Royal, Drury Lane. Vangelis also wrote music for director Michael Kakoyannis' staging of the Greek tragedy Elektra, which featured Greek actress Irene Papas. The piece was performed at the ancient open-air amphitheatre in Epidauros, Greece.