Blade Runner - Scoring the music

Around the time Vangelis embarked on the 'Blade Runner' project, came the introduction of two relatively new electronic music synthesis techniques, which offered an alternative means for generating sounds. The first was FM Synthesis, embodied on the newly acquired Yamaha GS-1 keyboard. The GS-1 provided tremendous onboard sound-processing utilities, which allowed its sonic possibilities to be expanded a lot further than the later simple and commercially successful FM synthesiser models.
The second new development was digital sampling synthesis. Vangelis added sampling to capture his acoustic instruments, like percussion or harps, so he could manipulate them from a keyboard during improvisation. The digital sampling gear included an Emulator and a preset drum sampler in the LINN LM-1 drum machine.
When composing and recording music for a film soundtrack, Vangelis utilised the control room at the studio by using a video screen to view the scene. Synchronisation between the video playback and the tape recorder relied on the use of remote controls. This meant hitting play on the videotape and pressing the record button on the tape machine.
A number of guest performers' vocals were used to enhance some of the incidental music, or to replace synthesiser lines with vocal effects on Blade Runner's soundtrack. The vocalists included The English Chamber Choir, Mary Hopkin, and Demis Roussos.
Once the lyrics of the songs were finished the vocalists would be asked to sing and perform the vocals in the adjacent live studio room to limit audio feedback coming of the monitors. The love theme featured in Deckard's apartment was performed on a sax by Dick Morrissey, with Vangelis' providing the musical backdrop on his synthesisers.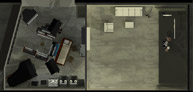 Vangelis worked on the score for weeks to perfect the soundtrack and make it in harmony with the visual power of the film. This resulted in emotive music which conveyed an atmosphere that had never been experienced before. Vangelis finished Blade Runner's musical score in April 1982. The film's post-production and editing continued for a few more weeks before the film opened in UK cinemas on 9 September 1982.